And to boot many sighs of women ... How about a cute vampire, educated, attractive, caring, intelligent, loving, sincere, generous, protective, respectful .. and many other infinite qualities that accumulate with years of experience. The character Edward Cullen is a true icon, and has become a global benchmark for a "perfect man". So every detail of his personality is not lost on their fervent fans. Some times counted in the movies have become a matter of controversy for the failure to agree with the attitudes that Stephenie Meyer's character had. Building on the end of our saga, we decided to make some comparisons, see:
Twilight: It's a favorite of Twihards. Perhaps because it followed the book Pensamento line and captured the essence of our Edward more accurately, perhaps ... One small detail could not have had so much sense. During the scene where Bella was bitten by James and is dying of pain and Edward is forced to suck his blood soaked vampire venom Edward and Carlisle asked to stop because Bella's blood is clean and is killing it. As well???The attitude comes from Edward stop. It is he who feels Bella's blood sample clean and stopping your willpower. Showing your love is so great that exceeds their natural desires. Where to stay all the self-ordering Edward Carlisle? Not to mention that Bella could be killed in the spring dance where our mind reader failure is not identifying the presence of Victoria. Bizarre!
New Moon: The film has many things in the book .. Everything was fine, but some changes were perceived and with whom? With our Edward. Bella does not support the idea of ​​seeing Edward spend money on it. But our vampire is not no fool, he's a nice CD with his compositions for his beloved. But then, that Jacob is just giving a present to Bella? You do not see in the book. Beyond that, someone can explain why long-suffering Edward appears in the encounter with the Volturi? Logical that the fight scene with Felix gives more action to the film, but it would be necessary to make it look so vulnerable?
Eclipse: Edward can be jealous, but Bella's safety first, then fight with Jacob in front of Bella and Charlie, running the risk of becoming the Wolf certainly would not. Another unusual time, Edward is a "passive" from looking at his girlfriend on a motorcycle with Jake. The vampires have cold blood, but not to the point of supporting a time like this. At the scene of "training", Carlisle Edward knocks on the floor. Well, being a mind-reader that seems to be impossible, since not even the full force Emmett would get it. In the end, it is not easy to reach someone who anticipates his every move in advance.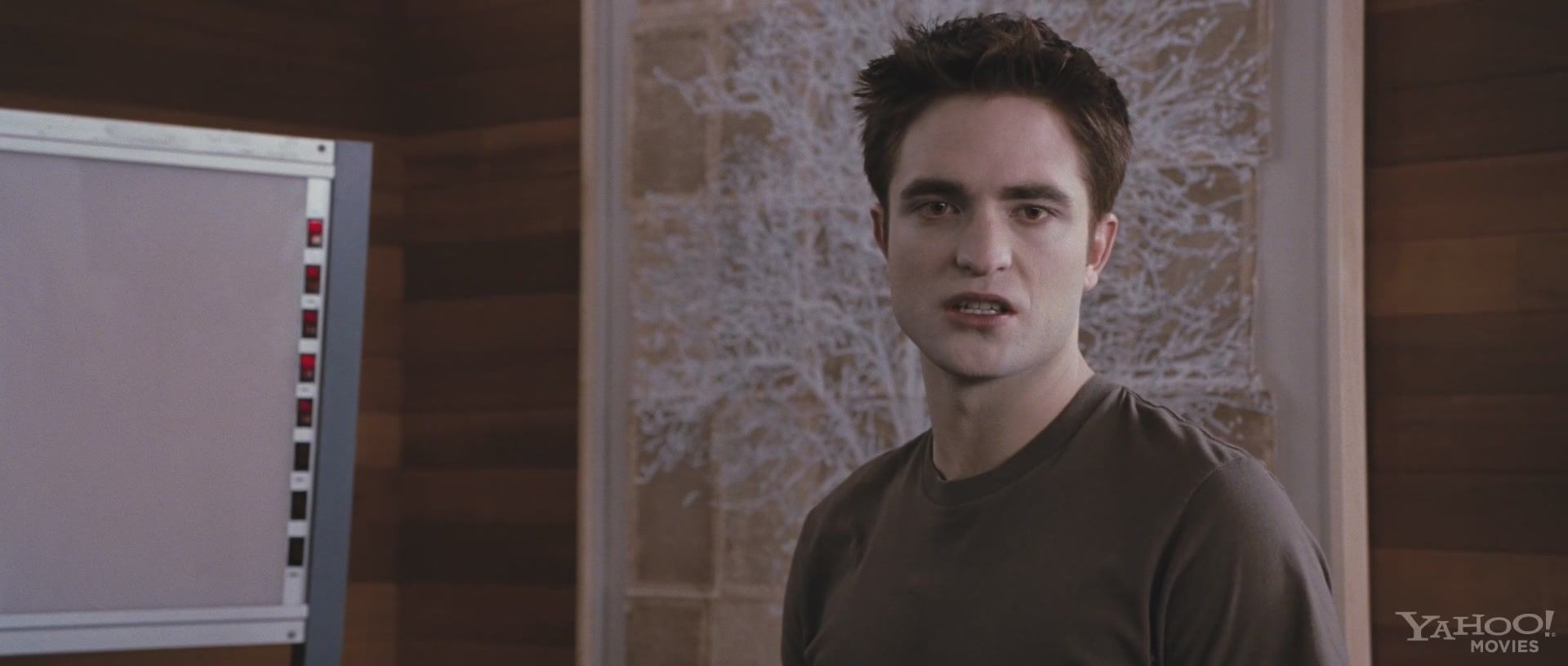 Dawn: Yeah! The film was the most perfect of all. But we are yelling at Bella to Edward throughout pregnancy and leaving her was something that did not receive any Twihard. Maybe it was a way found to justify the character's desperation time, seeing the love of his life dying. Rather, you know, Edward is a gentleman and his wife yell certainly does not match your profile. Another remarkable thing is that with the passage of the films, our shaggy-haired Edward and bronze gave way to Edward Shorter hair and dark.
Despite the differences between books and movies, one thing nobody can deny, there would be no more perfect for our Robert Pattinson Edward right? That's a gift that director Catherine Hardwicke gave us all Twihards. and endorse the words of Kristen: "Rob is a good actor and has a very crazy work ethic. He is quite sensitive. He is perfect. He's my perfect Edward. "
-------------------------------------------------------------------------------
Español
Diferencias: Edward Cullen en Libros y Edward Cullen en las películas!!
Y para arrancar muchos suspiros de las mujeres… Que tal un vampiro lindo, educado, atrayente, comprensivo, inteligente, cariñoso, sincero, generoso, protector, respetuoso.. y muchas otras infinitas cualidades que el acumulo con años de experiencia. El personaje Edward Cullen es un verdadero icono, y se ha vuelto referencia mundial de un "hombre perfecto". Por lo que cada detalle de su personalidad no pasa desapercibido para sus fervorosas fans. Algunos momentos contados en las peliculas se han vuelto motivo de polemicas por el hecho de no estar de acuerdo con las actitudes que el personaje de Stephenie Meyer tenia. Aprovechando el final de nuestra Saga, resolvimos hacer unas comparaciones, vean:
Twilight: Es uno de los favoritos de los Twihards. Tal vez porque siguió la linea de pensamento del libro y capturo la esencia de nuestro Edward con mas fidelidad, quizas… Un pequeño detalle podria no haber tenido tanto sentido. Durante la escena en que Bella fue mordida por James y está agonizando de dolor y Edward es obligado a succionar su sangre impregnada de veneno vampiresco y Carlisle pide a Edward parar porque la sangre de Bella ya está limpia y el la está matando. Como así??? La actitud de parar viene de Edward. El es quien siente la sangre de Bella limpia y muestra su fuerza de voluntad parando. Mostrando que su amor es tan grande que supera sus voluntades naturales. Donde quedo todo el autocontrol de Edward con ese pedido de Carlisle? Sin mencionar que Bella podria ser asesinada en el baile de primavera donde nuestro lector de mentes fallo no identificando la presencia de Victoria. Extraño!!
New Moon: El film tiene muchas cosas del libro.. Todo iba muy bien, pero algunos cambios fueron percibidos y con quien?? Con nuestro Edward. Bella no soporta la idea de ver a Edward gastar dinero en ella. Pero nuestro vampiro no es nada tonto, hizo un lindo Cd con sus composiciones para su amada. Pero entonces, por que sólo Jacob aparece dando un presente para Bella?? Cosa que no vemos en el libro. Mas allá de eso, alguien puede explicar por que Edward aparece tan sufrido en el encuentro con los Volturi? Lógico que la escena de la lucha con Félix le da una mayor accion al film, pero seria necesario dejar que parezca tan vulnerable?
Eclipse: Edward puede ser celoso, pero la seguridad de Bella esta en primer lugar, entonces pelear con Jacob en frente de Bella y Charlie, corriendo el riesgo de que el Lobo se convierta ciertamente el no lo haria. Otro momento inusitado, es un Edward "pasivo", mirando a su novia partir en moto con Jake. Los vampiros tienen sangre helada, pero no al punto de soportar un momento como ese. En la escena del "entrenamiento", Carlisle derriba a Edward en el suelo. Y bien, siendo el un lector de mentes eso parece ser imposíble, pues ni el mismo Emmett con toda su fuerza lo conseguiria. Al final, no es fácil alcanzar a alguien que prevee todos sus movimientos con anterioridad.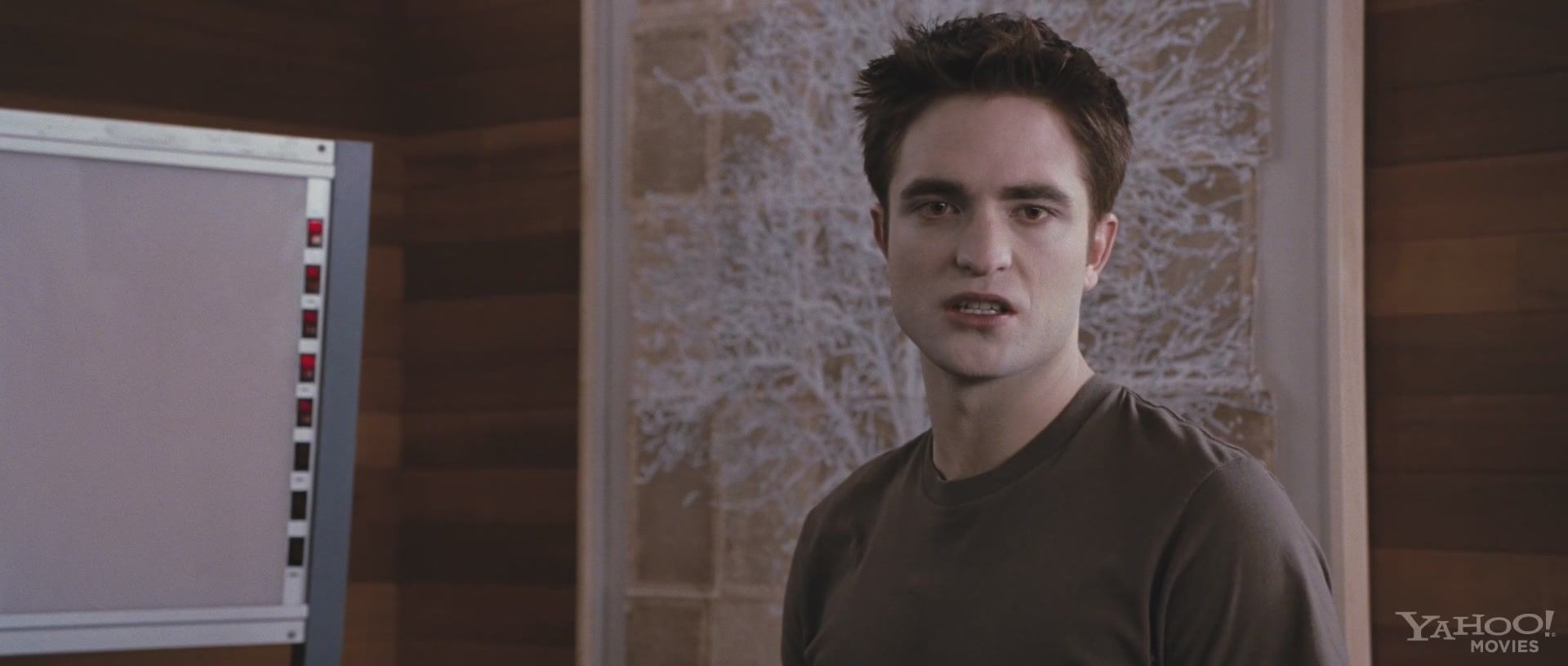 Amanecer: Yeah!!! El film fue el mas perfecto de todos. Pero tenemos a Edward gritandole a Bella durante todo el embarazo y dejándola sola fue algo que ningun twihard dejo de percibir. Talvez haya sido una forma encontrada para justificar el momento de desesperación del personaje, al ver al amor de su vida muriendo. Mas bien, ustedes saben, Edward es un caballero y gritarle a su esposa con certeza no combina con su perfil. Otra cosa notable es que con el pasar de los filmes, nuestro Edward de cabellos desgreñados y color bronce fueron dando paso a un Edward de cabellos mas cortos y oscuros.
Apesar de las diferencias entre los libros y las películas, una cosa nadie puede negar, no existiria nadie mas perfecto para hacer de nuestro Edward que Robert Pattinson verdad? Eso es un regalo que la Directora Catherine Hardwicke nos dio a todos los TwiHards. y hacemos nuestras las palabras de Kristen: "Rob es un buen actor y tiene una ética de trabajo muy loca. El es bastante sensible. El es perfecto. El es mi Edward perfecto."
Etiquetas: Crepçusculo, Edward, Robert Pattinson, Twilight