The year 2012 is approaching and with it new activities involving Robert, even if indirectly. It is in January, for example, to be held the first exhibition of Bel Ami in theaters for a very limited audience, but it will be the first time fans will have the opportunity to see the whole movie.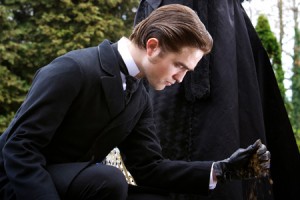 In January also held the
People's Choice Awards
, in which Robert was nominated in three categories, two of them related to the film Water for Elephants (see
HERE
).
Below is the Schedule:
First Exhibition of Bel Ami - Event "Girls Night Out" in Belgium
Days 3 and 4 January 2012
Shown in select theaters across the country.
Kinepolis Hasselt 3, 2012
Metropolis Antwerpen Jan 3, 2012
Kinepolis Gent 4 Jan, 2012
Kinepolis Leuven 4 Jan, 2012
Kinepolis Oostende 4 Jan, 2012
Kinepolis Kortrijk 3 Jan, 2012
MORE?? HERE!! +
Traducción al Castellano
People's Choice Awards (Nokia Theater)
Los Angeles, CA
Will be aired on CBS
January 11, 2012
21:00 pm (New York) | Half - night (GMT)
Rob was Nominated
His presence has not been confirmed
---------------------------
Próximos eventos relacionados con Robert Pattinson (2012)

El año 2012 se acerca y con ella nuevas actividades con Robert, aunque sea indirectamente. Es en enero, por ejemplo, que se celebrará la primera exposición de 'Bel Ami' en los cines para un público muy limitado, pero será la primera vez que los aficionados tendrán la oportunidad de ver la película entera.
En enero también se celebrará los People Choice Awards , en la que Robert está nom
inado en tres categorías, dos de ellos relacionados con la película de agua para elefantes.
A continuación se muestra la Lista:
Primera Exposición de Bel Ami - Evento "Girls Night Out" en Bélgica
Los días 3 y 4 de enero 2012
Se muestra en salas selectas de todo el país.
Kinepolis Hasselt 3 de Enero 2012
Metrópolis Antwerpen 03 de enero 2012
Kinepolis Gent 04 de enero 2012
Kinepolis Leuven 04 de enero 2012
Kinepolis Oostende 04 de enero 2012
Kinepolis Kortrijk 03 de enero 2012
Popular Choice Awards (Nokia Theater)
Los Angeles, CA
Será transmitida por CBS
11 de enero 2012
21:00 pm (Nueva York) | Half - noche (GMT)
Rob fue nominado
Su presencia no ha sido confirmado
Etiquetas: Bel Ami, Robert Pattinson