Okay Twi-hards, we've got great news: It can be officially revealed that The Twilight Saga: Breaking Dawn – Part 1 will be available on DVD and Blu-ray on Saturday, February 11, and we've got the details on the fan-centric bonus features!
Sure to please even the most hard-core fans, the two-disc Special Edition DVD and Special Edition Blu-ray both contain "Bella and Edward's Wedding Video," two different fast-forward features directly to your favorite Edward and Jacob scenes, the featurette "Jacob's Destiny," audio commentary with director Bill Condon, and a mesmerizing 6-part "Making of" documentary that takes you behind the scenes.
The disc comes out just in time for Valentine's Day, and Summit Entertainment's EVP of Home Entertainment Marketing T.J. Moffett says, "We thought the fans would love to spend Valentine's Day watching Bella & Edward's wedding and honeymoon. It's really the most romantic of all the Saga films."
Featuring the much-anticipated wedding, honeymoon and baby of Bella Swan (Kristen Stewart) and Edward Cullen (Robert Pattinson), The Twilight Saga: Breaking Dawn – Part 1 has taken in over $280 million domestically at the box office.
Bueno Twi-hards, tenemos una gran noticia: Fue revelado oficialmente que
The Twilight Saga: Breaking Dawn – Parte 1 estará disponible en DVD y Blu-ray, el sábado, 11 de febrero y tenemos los detalles de los bonus para las fans!Aseguran que el DVD Edicion especial de dos discos y la edición especial Blu-ray contienen "El video de la boda de Bella y Edward", dos diferentes avances rapidos con características de tus escenas favoritos de Edward y Jacob, el Featurette "El destino de Jacob", audio comentario con el director Bill Condon, y el "Making of" un documental de 6 partes que te lleva detrás de las escenas.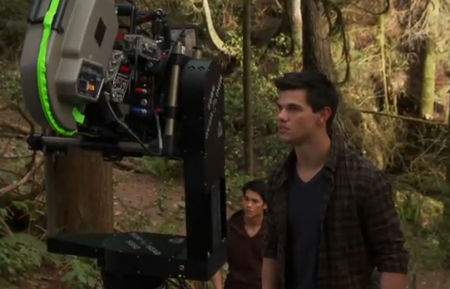 Clic en la imagen de Jacob para ver el vídeo: Behind the Scenes!
El disco sale justo a tiempo para el Día de San Valentín, y el vicepresidente ejecutivo de Summit Entertainment de Home Entertainment Marketing de TJ Moffett dice: "Pensamos que a los fans les encantaría pasar el Día de San Valentín viendo la boda de Bella y Edward y luna de miel. En realidad es la más romántica de todas las películas de la saga."