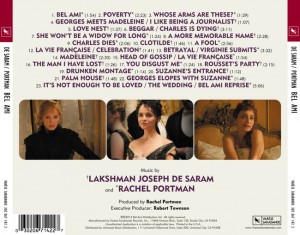 The album includes the original score from the film written by Lakshman Joseph De Saram and Academy Award-winning composer Rachel Portman. The soundtrack will be released on March 20, 2012 and is now available for pre-order on Amazon and Amazon UK.

The drama recently premiered at the Berlin Film Festival and will be released in the UK on March 9, 2012. A domestic release through IFC Films is expected later this year.
Track list is as follows:
3. Whose Arms Are These? (1:29)
4. Georges Meets Madeleine / I like Being A Journalist (1:07)
6. Beggar / Charles Is Dying (3:11)
7. She Won't Be A Widow For Long (1:24)
8. A More Memorable Name (2:28)
12. La Vie FranÇaise / Celebration (1:41)
13. Betrayal / Virginie Submits (3:32)
15. Head Of Gossip / La Vie FranÇaise (1:54)
16. The Man I Have Lost (1:26)
17. You Disgust Me (1:24)
18. Rousset's Party (2:15)
19. Drunken Montage (1:14)
20. Suzanne's Entrance (1:12)
22. Georges Elopes With Suzanne (1:48)
23. It's Not Enough To Be Loved / The Wedding / Bel Ami Reprise (5:06)
Los detalles de la Banda Sonora original de 'Bel Ami'
La Banda Sonora original de Bel Ami cuenta la
imagen
de
proyección igual que los carteles que hemos visto anteriormente.
El álbum incluye la banda sonora original de la película escrita por Lakshman Josehp De Saram y el oscarizado compositor de Rachel Portman. La banda sonora será lanzado el 20 de marzo de 2012 y está ahora disponible para pre-pedido en
Amazon
y
Amazon Reino Unido
.
El drama se estrenó recientemente en el Festival de Cine de Berlín y será lanzado en el Reino Unido el 9 de marzo de 2012. Un comunicado interno a través de IFC Films se espera para finales de este año.
Lista de pistas es la siguiente:
1. Bel Ami (1:54)
2. Pobreza (2:23)
3. ¿De quién son estos brazos? (1:29)
4. Georges conoce a Madeleine / Me gusta ser periodista (1:07)
5. Nido de amor (1:37)
6. Mendigo / Charles está muriendo (3:11)
7. Ella no va a ser viuda por mucho tiempo (1:24)
8. Un nombre más memorable (2:28)
9. Charles muere (2:06)
10. Clotilde (1:46)
11. A tonto (2:56)
12. La Vie Française / Celebración (1:41)
13. Traición / Virginie Presenta (03:32)
14. Magdalena (2:30)
15. Jefe de Rumores / La Vie Française (1:54)
16. El hombre que he perdido (1:26)
17. Me repugnas (1:24)
18. Fiesta de Rousset (2:15)
19. Drunken Montage (1:14)
20. La entrada de Suzanne (1:12)
21. Casa de las Palmeras (1:48)
22. Georges se fuga con Suzanne (1:48)
23. No es suficiente para ser amado / La boda / Bel Ami Reprise (5:06)
Source: filmmusicreporter/ Vía